According to many travel experts, Greece is one of the best places to go for a holiday. It has beaches, archeological sites, ancient buildings, and villages and towns that offer a great fun opportunity for visitors. Greece also has world-class hotels. Today Just Go Greece presents you the highest rated Greek hotels for your relaxation and enjoyment.
Discover the Highest Rated Greek Hotels
Stella Palace Resort & Spa
Once you set your eyes of Stella, you're never going back. This beautiful hotel located in Analipsi is everything you need to have a wonderful time. The swimming pool is situated in the middle of the hotel surrounded by palm trees, palm front umbrellas, and poolside loungers. The lovely family-friendly hotel also offers a flat-screen TV, Oceanview, a refrigerator, and air conditioning, and to ensure that guests have the best of time. Visitors will also enjoy amenities like babysitting, beach, free parking, tennis court, etc. Their in-house restaurant serves the best cuisine, Greek cuisine, wine, and assorted drinks.
Mystique Hotel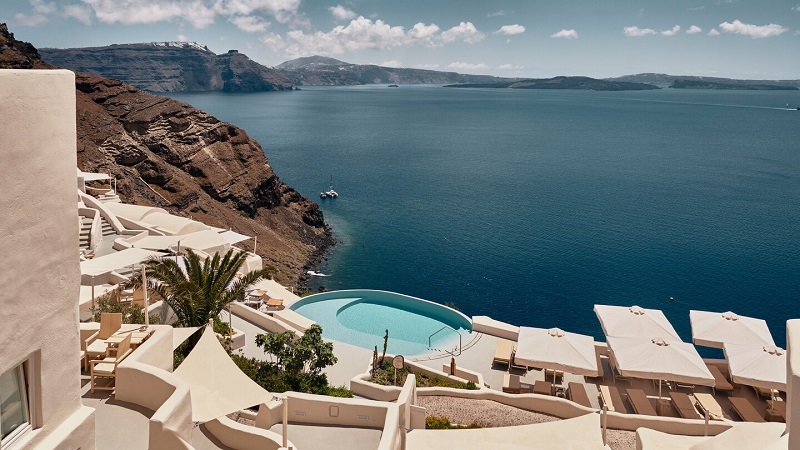 Mystique has a collection of quality hotels and the one at Santorini is just as good as the rest of them. The hotel is set high up the cliff overlooking the Santorini caldera in the Aegean Sea. They have rooms that open to terraces and balconies with sea views, cave style suites, minibars, and room service. They also have an outdoor pool and offer a business center and laundry service to help guests deal with all of their needs. Mystique Hotel is an incomparable magical place that offers the best value for money.
Amada Colossos Resort
One of the best 5-star hotel you can find in Greece. Amada boasts of facilities like relaxed rooms and studios, kids' club, pools, a spa area, and 2 fabulous restaurants. People who have patronized them love it because of their first-class service and the big size of their restaurants offering all kinds of meals that make your stay in Greece worthwhile.
Kiani Beach Resort Family All Inclusive
When a hotel is situated just at the edge of a beach, you know you're in for some great fun. Kiani is located in a chilled atmosphere where you'll hear the sound of sea waves in the background as you relax in your room. There is a football field, gym facilities, business center, and event rooms. You will also have access to a pool where kids and adults will enjoy themselves, while the dance floor is always busy with the in-house DJ blasting good music.
Hotel Grande Bretagne
Athens, the capital of Greece, is one of the most popular places to spend the holiday. The reason it's always crowded is that people can't just get enough of it. One of the best hotels to stay in Athens is no other than Hotel Grande Bretagne. This magnificent edifice is gorgeous in the outside and unbelievable attractive on the inside. It features courtyard views in rooms with marble bathrooms, minibars and flat-screen TVs, and free Wi-Fi. There are 3 restaurants for you to choose from, including the rooftop restaurant/bar with a magnificent view of the Acropolis.